For over forty years, DCA has been providing a Christian education while striving for academic excellence. Giving your child a quality Christian education is one of the best investments you can make for their future.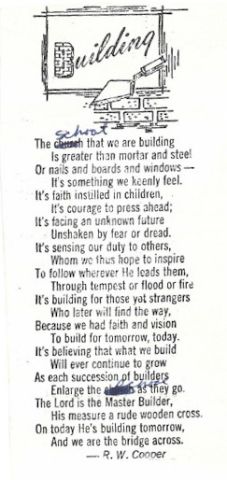 In 1963 the Supreme Court ruled that government-sponsored religious activities in public schools were unconstitutional. Shortly thereafter, God led a group of citizens in Desoto County to start a private Christian school. This school was to be an "Ark" or safe place for the children of the community, a place where God was the focal point of education. After many years of fundraising Ark Academy's doors opened in the Fall of 1970. In 1974 the new board of directors changed the name of the school to Desoto County Academy and, in 2018, to Desoto Christian Academy.
The purpose of Desoto Christian Academy is to provide a Christian education to the children of this area.
• DCA is operated by a Board of Directors.
• DCA teachers are spiritually and academically qualified. Each teacher is trained/certified, a born-again, dedicated, witnessing Christian who loves young people and has the gift of teaching them.
• DCA operates on the income from tuition, fees, and gifts from our families and friends. The school does not receive any government funds.
• DCA admits students of any race, color, or national and ethnic origins to all the rights, privileges, programs, and activities generally accorded or made available to students at the school. It does not discriminate on the basis of race, color, national and ethnic origin in admissions policies, athletic, and other school-administered programs.